Turning "What a waste!" into "Thank you!" and a smiling face
Food is life. Eating binds our lives together, the presence of a stable food source eliminates conflict, and sustainable food production and disposal protects our environment. A compassionate heart unwilling to waste food enriches people's lives.
Inherent to the Tohoku region of Japan is a deeply held gratitude for the blessings of nature and a spirit of "Again" (A Tohoku phrase meaning "Please come into my home, please eat.") that created a climate of helpfulness, where food was freely shared with others.
However, there are now many people unable to find their next meal. We cannot ignore the struggles of those who have lost their homes and jobs, or the elderly, handicapped, and victims of abuse living alone and without support. Meanwhile, an excess of delicious, nutritious food is thrown away every day because of an approaching expiration date.
Frustrated by this distorted situation, we have gathered together from different viewpoints and motivated by different crises in the unified hope of helping those in need.
We collect donations of food that, despite being in perfect condition, would otherwise have been thrown away. After receiving these donations, we inspect, sort and finally deliver the food to those living in poverty.
Though it's been 6 years since the March 11th, 2011 earthquake that devastated the Tohoku region, there are still many victims in desperate need of assistance. We will continue to help them for as long as they need.
Thank you so much for your continued support.

---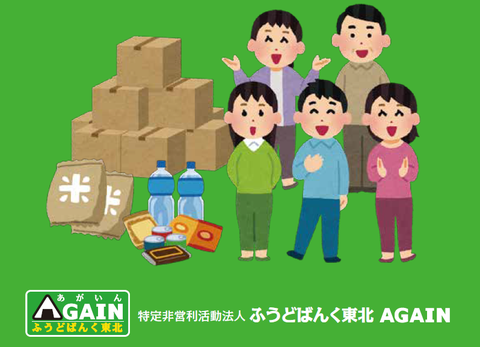 Turning "What a waste!" into "Thank you!" and a smiling face.
Despite Japan's food self-sufficiency rate being less than 40%, every year 5 to 9 million tons of safe, edible food is thrown away.
At a food bank, we collect quality food that would otherwise have been wasted from corporations, businesses and individuals, and then deliver this food free of charge to those living in poverty and to organizations providing welfare.
From food producers:
Food manufacturers donate edible products that cannot be sold because of labeling areas, surplus production, etc.
From farms:
In times of sudden need, we are so grateful to receive rice and other fresh foods from farmers.
From individuals:
Individuals who have unwanted but edible food, for example those who have received an excess of food for Chugen and Seibo, or who don't want to eat food nearing its expiration date, but are unwilling to throw it away, can use this food to help others by donating to the foodbank.
From stores (like supermarkets, etc.):
Stores sometimes accumulate quality food products that they are unable to sell because the packaging is damaged, the expiration date is near, etc. We receive donations from those stores who have chosen not to throw these products away.

---
Do you have delicious foods you can't sell because of:
Labeling errors,
Overproduction,
Items used in storefront displays,
Emergency supplies you wish to replace, etc.?
We also welcome companies who wish to fulfill their corporate social responsibility by donating to us.
By purchasing and donating items produced in areas affected by the March 2011 Tohoku Earthquake, you are working with afflicted companies to help those in need.
First, please contact us via our "Contact Us" page.
For those who wish to make a recurring donation, we create an agreement.
The contents of this agreement are to state mutual responsibility for the safety and edibility of the food items donated.
Please consult us about the type and amount of items you wish to donate.
Also, if you can donate foods with an expiration date within 3 months, that is a great help to us.
Recently, the food items Again is receiving are retort pouches (field rations) of side dishes and canned goods.
By requesting your donations, which are made without compensation, but allow your companies to meet its CSR (corporate social responsibility) goals and eliminate expensive disposal fees, we receive your cooperation in supporting Foodbank Tohoku Again in the form of direct donation or your company's membership fee. The driving force behind our continued charitable activities is your contributions.
We look forward to joining together with you and receiving your generous support.

---
Walking hand in hand in the pursuit of employment while participating in foodbank charitable endeavors
Give assisting in foodbank charitable work and pursuing employment a try!
Foodbank activities include checking food products, packing boxes, delivery, clerical work, helping with events and more, as well as a variety of positions for those with disabilities.
While participating in these activities, you'll be training in vital workplace skills and learning crucial knowledge. There's isn't one right way to participate. We meet a wide variety of people, and pursue future employment at the pace suited to each individual. 
Stacking shelves and sorting the warehouse
Packing boxes
Transport, loading and unloading
Delivery to recipients
Collecting food products
Checking and inspecting food
Computer skills
Calculation
Communication skills
Verbal understanding
Writing documents
Clerical work
Mental training
Business manner
Other
First, please contact us by phone!
Consultaion/ Interview

Receiving Proof of Participation

Participation begins
Time Schedule 
Monday~Friday10:00~16:00
10:00~10:50 Opening Meeting
11:00~11:50 Communication Skill Training 
12:00~13:00 Lunch Break 
13:00~13:50 Self Training via Foodbank Activities
14:00~14:50 Employment Skill Training 
15:00~16:00 Ending Meeting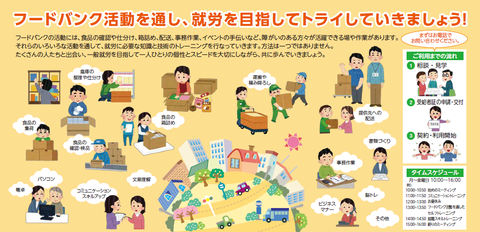 ---
Come join us helping others at the Food Bank!
(Feel free to call anytime without obligation. Consolation from family is also acceptable.)
We are always looking for support from individuals, business and corporations.
Would you like to help along with the Food Bank system by becoming a supporter?
Because of your contributions, we are able to help many people in need.
Help us turn "What a waste!" into "Thank you!"
Non-profit Organization Foodbank Tohoku Again [New Member Application] (Fill out the form below and deliver via FAX, or apply by e-mail.)
Supporting Member / Individual / Business / Corporation (Please circle one)
Name:
Address:
Business or Corporation Name:
Phone Number:
Email Address:
Date of Donation:  Year       Month      Day
Donation Amount:
Membership Fee

(Donation Amount is Optional/Per Year)

Supporting Member : 1 Contribution from 1,000yen~

Individual: 1 Contribution from 5,000yen~

Business/Corporation: 1 Contribution from 10,000yen~
How to Pay
Please deposit to the bank account number written below.
Donations from Post Office Bank (ゆうちょ銀行):
Code: 18150
Number: 22670211
Name: Non-profit Organization Foodbank Tohoku Again
Banks other than the Post Office:
Post Office Bank 818 Branch Office Normal 2267021
Name: Non-profit Organization Foodbank Tohoku Again 
---
In addition to food items and volunteer activities, we also accept monetary contributions as well. Your donations go toward covering the expenses of food delivery and a variety of other vital activities.
We display the names of donors on the homepage for one year (with the donor's permission).
Donations via Bank and Post Office
Deposit via the bank account numbers listed below.
Please send your good will along with the donation amount of your choosing.
The compassion and energy sent by your donations fuels our charitable work.
Via a Bank
Post Office Bank Store Number 818 Account Number 1458527
Via Post Office
Code Number/ Account Number 18120-1458571 
---
We post about our recent activities on social media.
You can follow our Facebook account at:  https://www.facebook.com/foodbank.tohoku.again

---
---
The address is:
〒981-3341
 Miyagi-ken, Tomiya-shi, Narita 8-1-1
Tel: 022-779-7150
Fax: 022-774-1410
If you're in the area, please visit us.
Information on access is available here
---